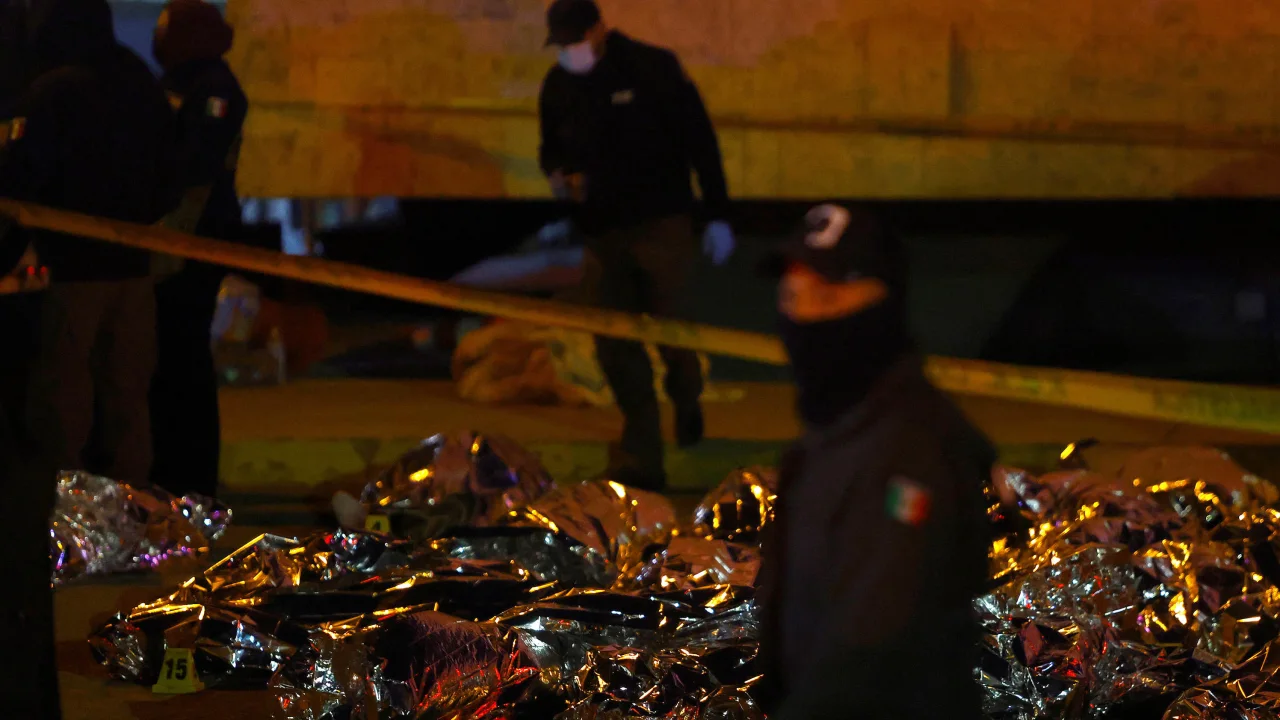 At least 38 people died on Monday night when a fire broke out at a government-run migrant detention center in Ciudad Juarez, a city in northern Mexico, on the United States border, Mexican officials said Tuesday.
Mexico's National Migration Institute (INM) revised the death toll down to 38 from after they announced the death toll as at least 40 deaths earlier Tuesday.
The deadly blaze has underlined the urgent situation in Mexican cities along the border, which have been inundated with migrants sent back from the US by a pandemic-era public health restriction that is set to expire in early May.
The fire at the INM facility started shortly after 10 p.m. inside an accommodation area, according to the agency. Authorities said it broke out after they picked up and detained a group of migrants from the streets of the border city, which sits across from El Paso, Texas.
Sixty-eight men from Central and South America were being held at the facility, the INM said in a statement. At least 28 Guatemalan nationals were among the dead, Guatemala's Institute of Migration confirmed. One man was Colombian, one was Ecuadorian, 12 were Salvadorans, 13 were Honduran and 13 were Venezuelan, the INM said.
It is unclear how many people of each nationality were killed or injured. At least 11 migrants remain in hospital following the fire, according to the government of Mexico's Chihuahua state.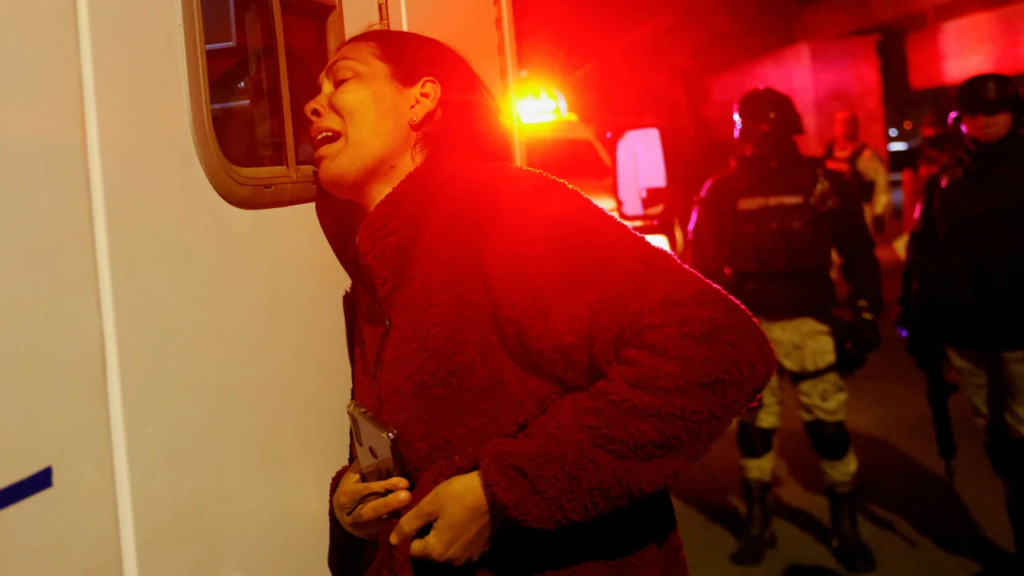 Mexico's President Andrés Manuel López Obrador said that the men detained at the center were angry at the officials, and had been demonstrating against their deportation.
"What we know so far is that migrants from Central America and some from Venezuela were in that shelter. We still do not know exactly the names and nationalities of those who unfortunately lost their lives," López Obrador said.
"This had to do with a protest that they started after, we assume, they found out that they were going to be deported, and as a protest, they put mattresses from the shelter at the door of the shelter, and they set fire to them and they did not imagine that this was going to cause this terrible accident."
"It is very sad that this is happening," the president added.
Video recorded at the scene of the tragedy showed first responders aiding survivors, wrapping them in silver, thermal blankets, before placing them on stretchers and into ambulances.
Firefighters carried limp, lifeless bodies from the building. Some of the victims' bodies were covered in black soot, placed next to each other in a row.
A separate surveillance video from inside the center obtained by CNN shows how quickly the flames spread throughout the holding area after inmates set mattresses on fire. it also appears to show that those detained were behind bars with the gate locked.
A member of the Mexican National Guard stands INM building, following Monday's deadly blaze.Jose Luis Gonzalez/Reuters
Emergency workers stand near the bodies of the migrants, mostly from Venezuela, who died in the fire.Jose Luis Gonzalez/Reuters
Andrea Chavez, Ciudad Juarez's federal deputy, shared her condolences with families of the migrants, and said that Mexican authorities had launched an investigation to determine who was responsible for the tragedy. "It is with deep sadness and grief that we learned of the fire that occurred inside the INM in Ciudad Juárez," she said on Twitter.
An eyewitness to the blaze, a Venezuelan woman whose husband was trapped inside the building and injured in the fire, spoke to Reuters news agency. Fighting back tears, she blamed Mexican authorities and claimed the doors to the detention center were not opened.
"At 10 p.m., we started to see smoke billowing from everywhere, everybody ran away but they left the men locked in. Everybody was removed from the area, but they left the men locked in. They never opened the door," 31-year-old Viangly Infante, a Venezuelan national, told the agency.
Her husband, 27-year-old Eduard Caraballo, was inside the detention center and survived by spraying water on himself, according to Infante, who said she saw many dead bodies. He was taken to the hospital with breathing problems, Reuters reported.
Another Venezuelan migrant, Emilio Jose, who was looking for his wife, told Reuters that he was not being given any information regarding her whereabouts. "Even if we are illegal or undocumented, we are human beings who feel. Look at what happened; some people are injured and are suffering the consequences of what happened," he said.
A migrant takes a photo of the blackened INM facility on Tuesday.Jose Luis Gonzalez/Reuters
Migrants hold a candle vigil outside the office of the National Institute of Migration (INM) in memory of the victims of the fire.Jose Luis Gonzalez/Reuters
The INM said it strongly rejected "the acts that led to this tragedy," adding that an investigation was underway. They did not indicate the cause of the fire. CNN has reached out to Mexico's migration authorities for comment on the blaze.
Later on Tuesday, the agency said that migrants injured in the fire would be granted "visitor cards," which will allow them to obtain legal immigration status in Mexico valid for one year.
"The immigration authority will provide visitor cards for humanitarian reasons to the injured and will cover the medical requirements for a speedy recovery," INM commissioner Francisco Garduño said during a visit to local hospitals where migrants were being treated.
Migrants who are unaccompanied minors, have witnessed a crime or been victim to a crime while in Mexico are eligible for a visitor card, according to the Mexican immigration agency.
Ciudad Juarez
The blaze is one of the worst in recent years in Mexico, which has seen record levels of crossings on its northern border, as people try to make it into the US. Migrant numbers at the US-Mexico border have been on the rise since last year, with increasing numbers of people from Venezuela, Cuba, Nicaragua and Colombia – many fleeing repressive government and stark economic pressures.
On March 12, hundreds of people tried to cross the border, gathering at a bridge connecting Ciudad Juárez with El Paso, Texas. The attempt at a mass entry caused disruptions along the border and authorities erected barricades to block the flow.
Migrants often wait for weeks or months in Mexico to present their case at a port of entry. In the meantime, many sleep rough in the streets, begging for change to survive.
Earlier this year, the Biden administration ramped up efforts to curb crossings.
In February, it released a new rule that largely prohibits migrants who traveled through other countries on their way to the shared frontier from applying for asylum in the US, marking a significant departure from decadeslong protocol. The proposed regulation is likely to take effect in May, when a Trump-era pandemic border restriction, known as Title 42, is set to expire in May.
Members of the Mexican National Guard stand guard outside a hospital where injured migrants were being treated.Jose Luis Gonzalez/Reuters
The Biden administration has leaned on Title 42, which has allowed border officials to turn away migrants who might otherwise qualify for asylum to be expelled, turned back to Mexico or sent directly to their home countries. But with the clock ticking on its potential expiration and amid ongoing litigation, officials are considering other enforcement measures as tens of thousands of migrants continue to move in the Western Hemisphere.
The proposal has been panned by human rights advocates and immigration experts, who say, among other things, it may increase Mexico's attractiveness as a pit stop for those ultimately aiming to request asylum in the US.
On Tuesday, the International Rescue Committee said that the fire was proof of the pressing need to ensure systems are in place to provide safety for people in need of international protection.
"As Mexico receives historic numbers of new asylum claims and the U.S. continues to implement policies that push asylum seekers back into Mexico, humanitarian infrastructure in the country is increasingly strained and more people are stuck in highly vulnerable situations," Rafael Velásquez, country director for the IRC in Mexico, said.
"These risks are particularly tangible in cities along the U.S.-Mexico border, such as Ciudad Juárez, which for years have seen increasing numbers of displaced people as new and stricter border policies have been put in place."