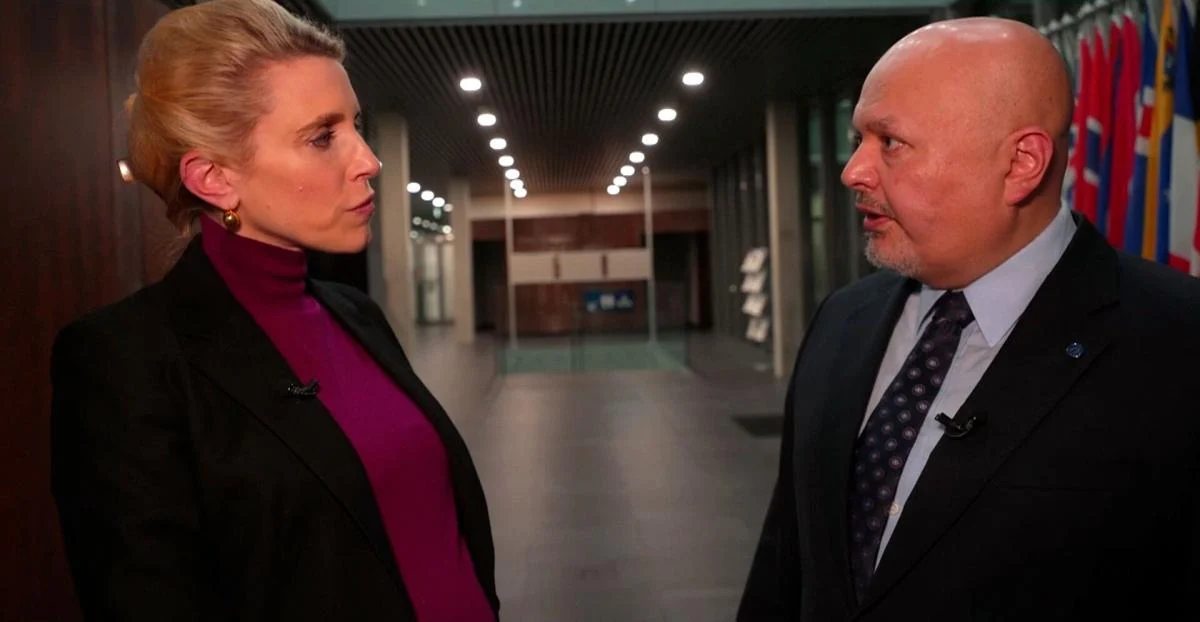 The International Criminal Court's chief prosecutor believes Russian President Vladimir Putin could stand trial for alleged crimes committed during Russia's war in Ukraine, he told CNN on Friday, despite Moscow's arguments that it is not subject to the court's decisions.
In an interview with CNN's Clarissa Ward, Chief Prosecutor Karim Khan pointed to historic trials of Nazi war criminals, former Yugoslavian President Slobodan Milošević, and former Liberian leader Charles Taylor, among others.
"All of them were mighty, powerful individuals and yet they found themselves in courtrooms," he said.
The ICC issued arrest warrants on Friday for Putin and Russian official Maria Lvova-Belova for an alleged scheme to deport Ukrainian children to Russia – a practice the Russian government has defended as saving them while denying that the deportations are forced.
The move has already made history by making Putin the first head of state of a permanent member of the United Nations Security Council to be issued with an arrest warrant, Khan pointed out.
Created to try genocide, crimes against humanity, crimes of aggression and war crimes, the ICC is known as the world's "court of last resort." Though 123 countries are parties to the treaty that brought the court into existence, there are significant exceptions including Russia, the United States, Ukraine, and China. Russia withdrew from the ICC treaty under a directive signed by Putin in 2016.
"Russia, like a number of states, does not recognize the jurisdiction of this court and, accordingly, any decisions of this kind are null and void for the Russian Federation from the point of view of law," spokesman Dmitry Peskov tweeted on Friday.
But Khan said it doesn't matter. "Article 27 of the Rome Statute makes it very clear that the official position of an individual is irrelevant to the jurisdiction of the court. The independent judges of the court have also found it appropriate" to issue the warrant, he added.
The court does not conduct trials in absentia, so Russian officials charged would either have to be handed over by Moscow or arrested outside of Russia. But ICC judges could still allow confirmation hearings – where judges assess the evidence before a trial – to proceed without them, Khan said.
The chief prosecutor also acknowledged the speed with which he has brought charges over Russia's actions in Ukraine – notable for a court that has been often criticized for its bureaucracy.
"I think the ICC has been pedestrian in some respects and we need to accelerate," Khan said.
He said that he had been traveling in Bangladesh to investigate crimes against the Rohingya in February when he decided that the Ukrainian case could not wait.
"From the information that was coming to me from multiple sources, we had to move forward. … When I got back to the Hague on February 28, I made it clear that I was applying to open an investigation. And I also invited states to refer the matter to my office because that would accelerate the ability for us to move forward and investigate."
Referrals came flooding in. "Within 48 hours, 39 state parties referred the Ukraine situation to my office, and it's now 43 from different parts of the world – from Japan, from Latin America, and from Europe. So that's one-third of all state parties to the court," he said.
"The simple reality is that these crimes have not been hidden," Khan also said.
Lvova-Belova, Russia's Commissioner for Children's Rights, dismissed the ICC's arrest warrant against her on Friday, saying it was "great" that the international community recognized her work removing children from war zones, Russian state news agency TASS reported Friday.
"It's great that the international community has appreciated the work to help the children of our country, that we do not leave them in the war zones, that we take them out, that we create good conditions for them, that we surround them with loving, caring people," she said to reporters, according to TASS.
Lvova-Belova regularly visits Russian-occupied Ukraine, and the Russian government has boasted of her personally escorting planeloads of children back from the country. Putin has given Lvova-Belova the power to use unspecified "additional measures" to identify children who lack parental care in the four Ukrainian regions it claims to have annexed.
UNICEF, the United Nations' children's organization, has said that "adoption should never occur during or immediately after emergencies," and that during upheaval, children separated from their parents cannot be assumed to be orphans. The UN furthermore considers forcibly transferring another country's population within or beyond its borders to be a war crime.
Thousands of Ukrainian children have been subjected to forced deportations by Russia, according to Ukrainian President Volodymyr Zelensky, who hailed the ICC's decision in his nightly address on Friday.
"In the criminal proceedings being investigated by our law enforcement officers, more than 16,000 forced deportations of Ukrainian children by the occupier have already been recorded. But the real, full number of deportees may be much higher," he said.
"Such a criminal operation would have been impossible without the order of the highest leader of the terrorist state," Zelensky added, in reference to Putin.
Despite the abundance of referrals that Khan says led him to open the case, the prosecutor emphasized that the presumption of innocence still applies.
"I would just encourage any individual in any situation before the court who has been accused and who's a suspect: If you believe you're innocent, surrender, clear your name."